With powerful filtration technology, constant disinfection and hands-free dispensing options, Culligan bottleless water coolers are the healthier, safer choice for drinking water. This innovative business solution allows your company to be safer, more efficient and more profitable while providing great drinking water to employees and customers alike.
BENEFITS OF BOTTLELESS WATER COOLERS
Increased Safety Measures – New bottleless water coolers feature hands-free dispensing to improve office safety and limit direct contact with shared surfaces. Certain models also come with a UV light or ozone technology for continuous sanitizing and disinfection.


---

Cost Savings – Bottleless water coolers provide great-tasting filtered water for approximately $0.02/gallon. These savings add up when compared to the average price per 5-gallon water bottle ($1+/gallon). And because bottleless water coolers connect directly to your water supply, you don't need to pay for ongoing delivery contracts.


---

Better for the Environment – The virtually unlimited supply from a bottleless water cooler rids your workplace of plastic bottle waste, which means fewer bottles in our landfills and oceans.


---

Time Savings – A bottleless water cooler's endless supply eliminates the need to store those extra bottles taking up space in the office. It additionally erases employee liability when it comes to lifting heavy bottles while changing out empties, saving your team members time and labor.


---

Improved Taste and Expansive Options – Sterling Culligan Water bottleless water coolers make crisp and refreshing drinking water readily available – in cold, hot, ambient or sparkling water varieties. Plus, our reverse osmosis filtration technology reduces up to 99% of harmful contaminants, including lead, arsenic, nitrates and more.
Better Water Without the Bottle – Our Filtration Process Explained
Sterling Culligan Water coolers take tap water and put it through a purification process unmatched by the competition. Unlike other systems, our products use five stages of filtration – including sediment filtration, two phases of carbon block filtration, reverse osmosis and activated oxygen filtration. Bottleless water coolers are perfect for manufacturing facilities, conference rooms, gyms, hotel lobbies, dental offices, medical labs, residential applications and so much more!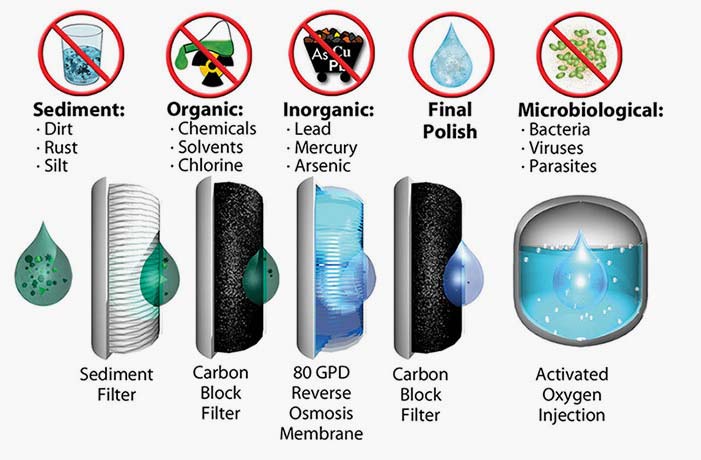 Featured Bottleless Water Cooler Products
Wellsys 12000 & 15000
The Wellsys 12000 and 15000 models provide endless filtered water for your workplace in compact designs – and they now include ice! These coolers feature multistage filtration and mineral enhancing technology to balance pH and restore valuable nutrients. Additional benefits include the production of up to 100 pounds of ice per day depending on the model. Both countertop and freestanding versions of these products are available to conveniently fit your space.
Pure Water PW90
The new PW90 is among the most hygienic and technologically advanced water dispensers in the industry. In addition to touch-free dispensing, this advanced filtration system features activated oxygen self-cleaning to maintain water freshness. Its high capacity drip tray has an optional drain connection, eliminating the need to manually empty excess water. Plus, 24/7 system monitoring provides real-time diagnostics to ensure great quality water and optimal performance. Learn more the Pure Water PW90.

Pure Water 3i & Pure Water 3i + Alkaline
The Pure Water 3i delivers glass after glass of pure drinking water at the touch of a button while keeping our world and your workplace healthy. This system eliminates the environmental and workplace impact of bottled water systems while supplying fresh, healthy and pure drinking water at the point-of-use. The Pure Water 3i + system incorporates a fifth boost filter for the purest pH balanced and electrolyte enhanced water in the marketplace. Our industry-leading water purification system satisfies the trending thirst for enhanced water.
BluV Water Purification System
The BluV delivers glass after glass of pure drinking water that tastes every bit as good as it is good for you. At the core of this patented technology is a microprocessor that controls and monitors activated oxygen injection, filter life, water quality and all other system functions 24 hours a day.
Ascent™ Peak 2000 Ice and Water Bottleless Water Cooler
The Culligan Peak Ice Maker & Water Dispenser uses multi-stage filtration to provide great-tasting water and up to 44 lbs. of crystal-clear bullet ice per day. This free-standing unit features touch-free water dispensing, making it perfect for offices, waiting rooms, schools and more.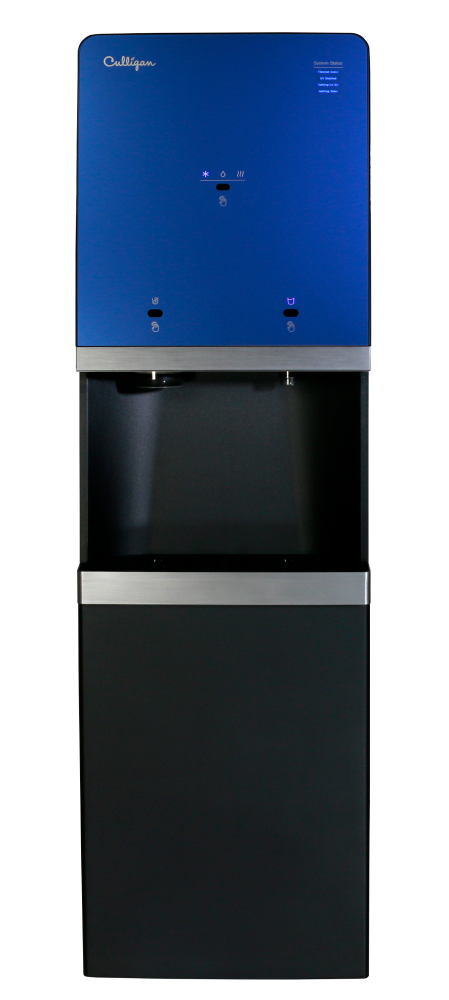 Pure Water Deionized Water Systems
Deionized water systems produce a type of water that has been stripped of all ions (or minerals), including sodium, calcium and iron. Four times cleaner than distilled water, deionized water effectively cleans without the use of chemicals. It is excellent for high-purity applications like dental offices and medical laboratories.