Our Sterling Culligan Water team is excited to offer several new upgrades and accessories for bottleless water coolers. With add-ons such as ice, hands-free dispensing, coffee and sparkling water, your employees and customers will be satisfied no matter their personal taste or preference.
CUSTOM PACKAGES FOR DIFFERENT TASTES
With a wide range of available bottleless water coolers, upgrades and accessories, your business can select a package customized to its unique needs. Our Sterling Culligan Water experts will work with you to select the plan that best fits your company's size, budget and employee or customer tastes.
Featured Bottleless Water Cooler Upgrades and Accessories
Wellsys Ice Dispenser Cooler
Upgrade your current office water filtration by adding ice. Benefits of the new Wellsys ice dispenser coolers include multi-stage purification and the production of up to 100 pounds of ice per day depending on the model. Plus, these bottleless water coolers offer employees hot, cold and ambient water options.
Culligan BluSoda Bottleless Water Cooler
The BluSoda bottleless water cooler was developed to deliver high-end performance in an attractive, compact design. Staying hydrated has never been easier thanks to BluSoda's on-demand cold, sparkling, ambient or hot water options – all available at the touch of a button.
Keurig K155 Office Pro
We know that better water makes a better cup of coffee, so our Sterling Culligan Water team is excited to offer the Keurig K155 Office Pro. Employees can now enjoy their favorite drinks (coffee, tea, hot chocolate or iced beverages) in one minute or less. And because the brewing systems can be directly linked to Culligan bottleless water coolers, you'll never have to worry about refilling the water reservoir ever again.
WS Touchless-Dispense Foot Pedal
This innovative add-on features hands-free design for no-touch, instantaneous dispensing of cold water. With 'plug and play' functionality, the WS Touchless-Dispense Foot Pedal is easy to retrofit with no cutting or splicing necessary, and an eye-catching yellow color for safety. See the touchless-dispense foot pedal in action!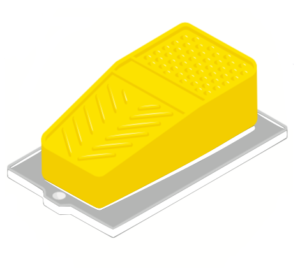 WS Touchless Dispense – PSD
Retrofit your Bottleless Cooler with the Touchless-Dispense PSD Sensor to enjoy hot and cold water, hands-free! Advanced sensor technology ensures water only dispenses when YOU want it to. See the touchless-dispense foot pedal in action!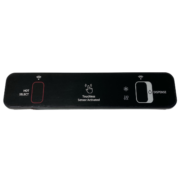 Single-Use Cups
With more widespread calls for stricter sanitary measures and practices, as well as a heightened risk of refilling the same cup or personal water bottle, Culligan Water's single-use cups help curb the spread of germs.